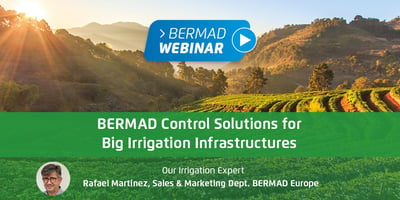 Big Irrigation nets, delivering pressurized water in controlled conditions to many farmers (sometimes along thousands of hectares) are probably the most cost-efficient, environmentally oriented solution in the very demanding scenario of the globally growing demand of agriculture production. BERMAD has long-term experience in designing, producing, and implementing control solutions for such infrastructures, largely proven in hundreds of Irrigation Consortiums in Southern Europe.
Read More
Topics: Irrigation, BERMAD webinar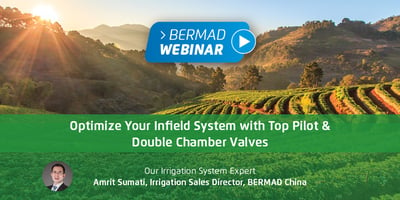 With rapidly growing demand for infield pressure control solutions, irrigation system designers must find solutions to prevent fluctuations during pressure regulation and increase reaction speeds in order to provide more economical and reliable irrigation solutions. Based on BERMAD's best-selling 100 and 200 series valves, we're now able to deliver two advanced solutions: BERMAD's Double Chamber 100 Series, which offers faster closing speed for better pressure regulation when upstream pressure changes and Top Pilot valves, available in both 100 and 200 series, which deliver optimal performance in the most challenging irrigation environments.
Read More
Topics: Irrigation, BERMAD webinar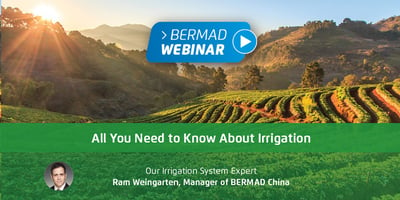 BERMAD invites you to watch our webinar series which takes a comprehensive look at the key issues facing irrigation today. Six webinars covering irrigation design; control problems & solutions along the irrigation field; air valves, water meters & irrigation control valves; irrigation in greenhouses; review of case studies and answers to questions from the field.
Read More
Topics: Irrigation, BERMAD webinar