Bulgaria's capital and largest city, Sofia, is located in the center of the Balkan Peninsula at the foot of Vitosha Mountain. Domestic water for Sofia's 1.26 million residents is supplied by Sofiyska Voda (Sofia Water), a subsidiary of Veolia.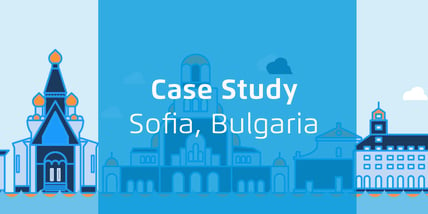 The Challenge
Sofia's water system was experiencing very low efficiency. A major contributing factor to the problem was the presence of large elevation differences (up to 400 m) in the supplied area, leading to very high pressure as well as high water loss due to a large number of pipe bursts.
The service area consisted of several supply zones with a maximum pressure of 8 Bar. In order to reduce non-revenue water and to establish easy monitoring, Sofia had been divided into approximately 200 district metered areas (DMA). However, the average pressure in the system needed to be reduced.
Pressure Reducing Valves as the Solution
Industrial Parts, a distributor of BERMAD in Bulgaria, and Prof. Dr.- Ing. Gantcho Dimitrov from University of Architecture provided full engineering support for this project and accompanied the water company on an ongoing basis. IP engineers proposed installing pressure reducing valves (PRVs) in individual DMA's, thus converting the DMAs into pressure managed areas (PMAs). Nearly 200 PMAs were created between 2009 and 2015. These covered around 40% of the supplied area where pressure reducing is possible without compromising customer service.
Approximately 250 BERMAD 700 series fixed outlet PRVs were installed in the project, ranging in size from 2" to 16". These PRVs can be easily converted on site to dynamic PRVs in the future.
Results
For the first 4 years of the project, the installation of BERMAD's pressure reducing valves were Sofiyska Voda's primary water loss reduction activity. During this period annual Sofia water supply volume decreased by 10%. The total reduction in water loss over the entire 6 years of the project amounted to 17% - more than 20 mln.m3. A few PMA's within this project reported up to 50% reduction in water loss and a 90% decrease in pipeline bursts.
Due to the success of the first (installation) phase of the project, second phase implementation has been approved. This involves on-site conversion of a percentage of installed PRVs to dynamic PRVs in order to achieve even greater improvements in water supply efficiency.
Engineer Plamen Rachev, DMA/PMA Projects Manager, reports: "The PMA Program in Sofiyska Voda was a big first step for water loss reduction. It also helped to reduce the leaks and pipeline bursts. Now that the territory is almost covered, our next challenge is to keep the system in good condition and to increase pressure management efficiency by using dynamic pressure management opportunities."