For 50 years, BERMAD has been the recognized pioneer and world-leading provider of high quality hydraulic control solutions. Today, we're announcing our new Buildings & Construction website and blog as an educational resource for property owners, managers, and developers wishing to improve the operational efficiency and reliability of their buildings' water systems.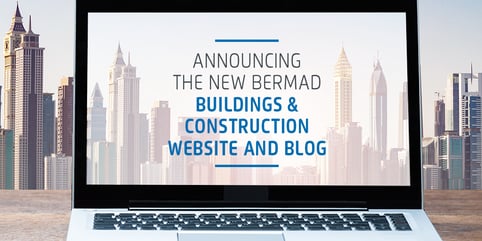 Efficient and stable water supply in buildings has become a leading concern as water has become an increasingly precious resource worldwide. The availability of efficient, flexible and dependable water control equipment is critical to developing and deploying sustainable and effective water control and conservation strategies. BERMAD offers a wide range of high performance valves and other water control solutions to maximize water usage efficiency and minimize building maintenance costs as well as system downtime.
Our new Buildings & Construction website and blog will provide existing and future BERMAD customers with new and engaging ways to learn about BERMAD water control products, including product information and innovative applications for buildings & construction.
Here are just a few things we've got in store for you:
A New Responsive Design:

Smartphones aren't just for consumers—our buildings & construction customers use them, too! Now you can access all the information you need whether you're seated at your desk or in the field.
The New Knowledge Center:

Visit our Buildings & Construction

Knowledge Center

for an easy and direct way to access all of the relevant YouTube videos we've created. You'll find an extensive library of video tutorials and explanations to help you select the right products and discover solutions to solve your water control challenges.
A Dedicated Tools Section:

Whether you're a property manager, building owner, engineer, or construction professional, this new section of the website will help you

coordinate the tools

you need for any job.
BERMAD City Center Virtual World:

You don't have to sift through a long list of BERMAD products and their specifications to get the product information you need. Now, you can quickly and intuitively find practical solutions to the challenges you face. Just hop on over to the

BERMAD City Center

virtual world to surf an online environment and see exactly how our applications and solutions work together to improve your building infrastructure.
Whether you want to learn more about a specific building or construction-related water control issue or find products and solutions to fix a known problem, our new website and blog are here for you.
We invite you to explore our new website and see how we're continuing our mission as a world leader in the water control industry. Don't forget to subscribe to the BERMAD Buildings & Construction blog before you go, to stay up to date with the latest industry news and receive relevant educational content to solve your most frustrating hydraulic control challenges.