Deluge valves, together with the reservoir and pumps, are a critical part of many industrial fire protection systems and are often seen as "the heart of the system". For this reason, it is essential that deluge valves function properly.
In this blog, we will clarify the difference between deluge valves and on-off valves, as well as deluge valves with local reset and deluge valves with remote reset.
What is a Deluge Valve?
A deluge valve is a type of system actuation valve that is opened by a detection system that is installed in the same areas as the spray nozzles or by remote manual operation supplying water to all spray nozzles. As this definition is quite broad, some confusion may arise between other process valve types and deluge valves. So how can you tell when a valve is really a deluge valve?

What is the Difference Between an On-Off Valve and a Deluge Valve?
Let's take a look at the differences between on-off valves and deluge valves and understand why it's important to specify a deluge valve—including its standard compliance considerations.
Deluge valves are designed to deliver a large amount of water over a large area as rapidly as possible to quickly extinguish a fire. However, it's not always easy to distinguish between true deluge valves and on-off valves, which are also known as flow control valves or auto-resetting valves.
On-Off Valves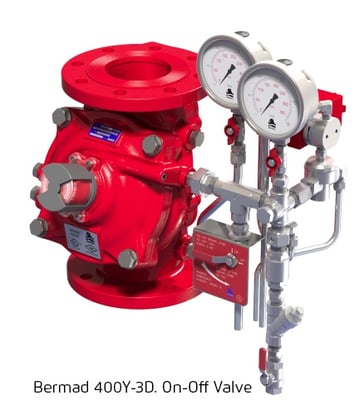 In an on-off valve, manual resetting is not required. The valve can be opened and closed remotely. In many cases, an on-off valve can even be set for automatic actuation and/or reset, depending on the type of actuation and detector used.
On-off valves offer a number of advantages. They are typically light, easy to maintain, and economical. However, the remote reset feature can give rise to a risk that precludes using them for some fire protection systems. In cases where the fire breaks the detection line, the valve's automatic closure may be triggered. This means that the valve would close without the fire being suppressed, and the fire protection in the area covered by the valve would be neutralized and ineffective when needed most.
While local manual actuation is typically available as an emergency measure, these valves are not set up for manual reset. Therefore, they cannot be FM approved because according to FM standards, manual resetting is compulsory for deluge valves. In contrast, UL standards specify a manual reset as optional, so on-off valves do comply with UL requirements in this regard. Moreover, these valves do normally meet CE requirements.
Deluge Valves
True deluge valves are available with local or remote resetting features. In both cases, actuation can take place remotely. The main difference between these valves and on-off valves is that they always have a manual resetting option.
Deluge Valves with Local Resetting
Standard deluge valves require a local manual resetting option where an operator must be physically present at the valve location to reset the valve. Actuation - whether hydraulic, electric, pneumatic, or a combination such as electro-pneumatic or electro-hydraulic - is remote and may take place manually or automatically. In valves of this type, for example the BERMAD model 400Y-3UM, local manual reset is compulsory. This type of valve meets the specifications of FM- and CE-marked products, as well as UL-listed valves.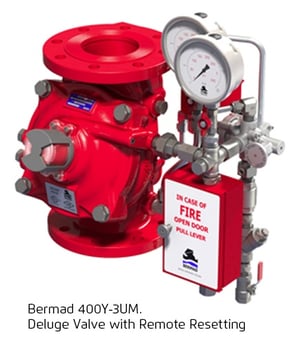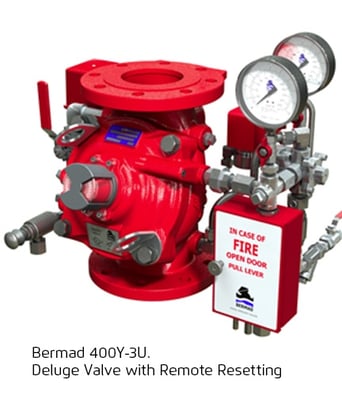 Deluge Valves with Remote Resetting
Remote resetting is a new concept in deluge valves and is offered as a feature of the BERMAD 400Y-3U remote reset deluge valve. Just as with standard deluge valves, actuation may be remote and may take place manually or automatically. However, while the resetting is manual, it is not restricted to being local and an operator can reset the valve from a remote location. This can save time and eliminate the need to send employees into a potentially dangerous post-fire environment. The BERMAD 400Y-3U remote reset deluge valve meets the specifications for FM-approved and CE-marked valves.
To recap, if we compare both deluge valve models, they appear to be almost identical. The main difference between them is that the 400Y-3U can be remotely reset without the risk of accidental closure.
Applications of Deluge Valves with Remote Reset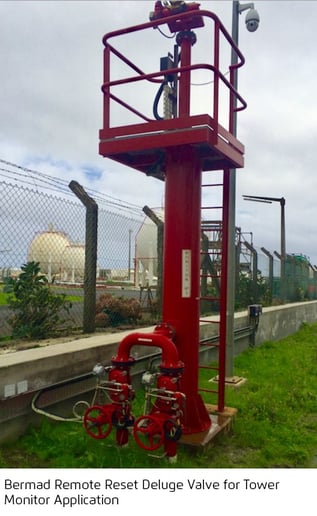 Remote reset deluge valves are well suited for many applications in the Oil & Gas and Power Generation markets, as well as in other industries including:
Tank farms (cooling systems, uploading truck areas)

Power plants (transformers, monitors)

Tunnels with spray systems

LNG (instrumentation and cooling systems)

Hangars (foam systems and monitors)

Car industry (painting areas, monitors)

Paper & pulp Industry (monitors)

Foam systems (monitors, foam generators, foam chambers)
Read more about what to consider when purchasing a deluge valve.