In a recent BERMAD webinar, "Air Valves Sizing and Positioning using BERMAD Air Software," Tal Levi, our Waterworks Application Engineer, talked about the challenges of proper air control in water system design.
<<Missed the webinar? Watch Now>>
During the webinar, questions regarding different valve types and how to use BERMAD Air were addressed.
Q: How can we download the BERMAD Air software?
A: All BERMAD tools, including BERMAD Air, are available for download from our website. Simply enter your details and once you've received the confirmation email, you can install the program and start working with it. Sign up for BERMAD Air.
Q: At what pressure does the air valve switch from the kinetic orifice to the SP disc and vice versa?
A: The switching pressure varies according to the air valve cover and size. For all BERMAD air valves, the switching pressure is between 0.2-0.6 m H2O.
Q: what is the principal difference between automatic and kinetic valves?

A: Kinetic air valves are only active while the system is not fully pressurized. They are designed for the following objectives:
Allow safe & controlled pipeline filling within a reasonable time
Prevent vacuum formation during pipeline burst, drainage and water hammer (pressure surge)
*Typical kinetic orifice size: DN20-DN250 (3/4"-10")


Automatic air valves operate only during normal system operation, while the system is pressurized.
The aim of automatic air valve is to release entrapped air pocket to the atmosphere, by doing so to maximize system efficiency.
*Typical automatic orifice size: 1-5 mm
Combination air valves include both two functions (kinetic and automatic) in one product.
Q: Are there installation recommendations to ensure that the greatest amount of air is captured from the pipe to the air valve?
A: For effective release of trapped air, the way the air valve is installed is as important as its location.
Air valves must be installed with an air trap chamber to ensure all air bubbles are trapped as they travel along the stream.
See the recommendations below: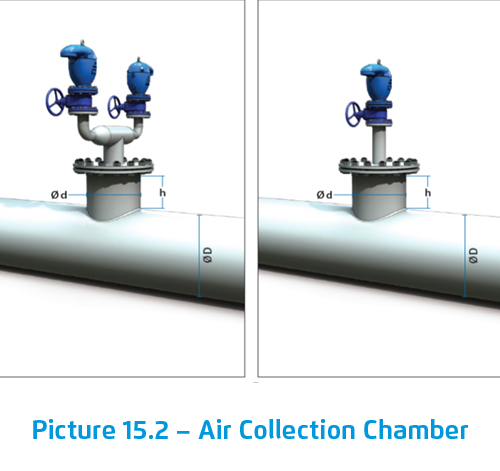 Q: Is it possible to model a network or only a single line?
A: No. BERMAD AIR is designed to model a single track main only. In case of a distribution network, the solution is to only model the large main pipelines in BERMAD Air, and if needed, add demand/consumption along the pipeline. Air valves for the small branches will be selected based on manual guide for sizing & positioning air valves in municipal or agricultural distribution networks.