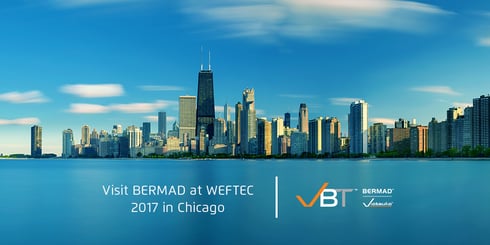 It's the world's largest water quality exhibition, and BERMAD will be there. The Water Environment Federation's Technical Exhibition and Conference (WEFTEC) takes place between September 30th - October 4th in Chicago, USA. The show will provide unparalleled access to the most cutting edge technologies in the field of water quality.
If you are planning to attend, we invite you to stop by and visit us at booth 856! In addition to being available on the exhibit floor Monday, Oct. 2 – Wednesday, Oct. 4, our representatives will be hosting a luncheon on Sunday, Oct. 3, where we will introduce the newest in our line of water control products.
Introducing Euromag Magnetic Flow Meters
The highlight of our WEFTEC booth this year is our line of new magnetic flow meters, offered in partnership with Euromag International. This exciting new product line, along with our digital registers introduced last year, reflects our commitment to staying on the vanguard of the water monitoring industry with smart metering technologies.
Euromag magnetic flow meters offer impressive value with exciting features such as:
Size variation from 1.5 up to 80 inches
Numerous sensors and converters for different applications
U0-DO - eliminating space constraints on water pipes and reduce installation time/costs with no need to sacrifice accuracy
Integrated pressure port
5 totalizers- 2 positive, 2 negative, 1 net resettable
Sensor/converter can be mounted compact or to the side
Powered by AC power, solar panel, or high-efficiency battery according to customer's needs
Data Logging - Unit logs data at 15 minute intervals
AMI Reporting capabilities – the Mag Meter sends reports and alerts to user via SMS or email, or cloud based software including rate of consumption, flow, alerts for too much or insufficient water, empty pipe, etc.
Connectivity to scale systems or internet
Intuitive and user friendly PC interface with easy to download and diagnose information
Multilingual - supports English, Spanish, Portuguese, and French
10-year life span on display unit battery for exceptional reliability, reduced downtime and minimal maintenance
Insertion installation using valve port allows conversion of existing BERMAD valves into valve with flow meter
The Euromag magnetic meter is highly versatile and suitable for virtually any water metering application. It is capable of handling any liquid that doesn't have hard particles in it, including irrigation, wastewater, stormwater, potable water, etc. The units are also ideal for remote applications and areas with no access to power when set up for use with batteries and/or solar panels.
For over 50 years, BERMAD has been the recognized pioneer and world's leading provider of high quality integrated water management solutions. Incorporating advanced flow control, and automation technologies, BERMAD's best of breed solutions have proven themselves at every level of the industry. We are experts in water flow management technologies, and we design, manufacture, supply, integrate, and support products and solutions to enhance and protect water systems around the world.
We look forward to seeing you at WEFTEC 2017! In the meantime, if you can't wait to learn more about Euromag magnetic flow meters, or would like information about any other of our high quality water control solutions, contact us here to connect with a BERMAD Waterworks representative in your region.