The Challenge
Jerusalem is the capital city of Israel, and it is located in the middle of the country. In addition to the large number of tourists visiting this historical city annually, Jerusalem also has a population of more than 900,000 people, and in 1994, the yearly drinking water consumption was approximately 60M cubic meters; 2,120 cubic feet. In order to meet the future demand of a rapidly growing population, as well as overcome the challenges posed by an ageing infrastructure, Mekorot (the Israeli national water company) decided to implement a new pipeline system. The objective was to deliver water from the national aqueduct and deep wells near the coastline to Jerusalem.
The Solution
Based on our reputation and experience in designing, manufacturing and supplying standout products for water systems, Mekorot turned to BERMAD for a recommendation for a comprehensive surge prevention solution. To provide educated answers, BERMAD engineers performed a surge analysis using advanced transient flow software.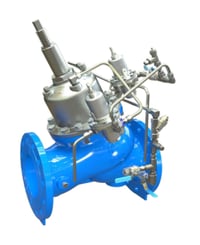 Based on a comprehensive analysis of the system requirements, BERMAD proposed the following solution: Four units of the BERMAD 835-M DN250 / 10" Surge Anticipating Valves. This full-bore, PN40, piston-actuated valve immediately opens in response to the pressure drop associated with abrupt pump stoppage. The pre-opened valve dissipates the returning high pressure wave and eliminates the surge.
BERMAD Surge Anticipating Valves guarantee a high-performance surge solution that can be relied on for many years – even in high-pressure systems and tough conditions. Read the case study to learn more about how BERMAD met the challenge.