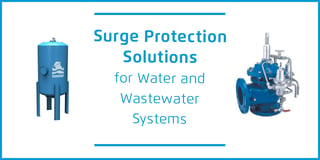 Whether caused by pump start-up, shut-off, valve closure or unanticipated event such as abrupt power failure which leads to pumps trip, unintended pressure surges can develop and wreak havoc on a water system. BERMAD offers a package of services and products to prevent water hammer damage to pipes, valves, and any other hydraulic components in potable water, sea water, and wastewater systems.
Surge Analysis
For large systems, it is crucial to perform surge analysis to determine the correct size and type of surge protection devices, which must to be included in the system design. BERMAD application engineers use surge analysis software to ensure optimal and safe operation and better surge protection during all stages of system operation. This includes:
KYPipe Surge software - a leading surge software which provides BERMAD customers with precise engineering calculations to evaluate the pressure surge magnitude and supports finding the optional cost-effective surge solution.
BERMAD AIR –Software for precise air valve sizing & positioning to optimize air control in water and wastewater pipelines and networks.
Combination Air Valve with Surge Protection
Combination air valves are a hybrid between two types of air valves: kinetic and automatic. They are capable both of enabling the relief and intake of large amounts of air, and releasing small amounts of air on a continual basis to maximize system efficiency.
BERMAD's C-series combination air valves include a built-in surge protection (anti-slam) device. This feature partially closes the valve's orifice in response to a pressure surge, helping to decelerate the approaching water column and prevent damage to the valve and system.
Surge Anticipating Control Valves
The abrupt stopping of a pump is usually associated with pressure drops and a subsequent surge as the traveling column of water travels back towards the pump. Typical wave celerity can reach 400-1,200 m/sec , which is too fast for a standard relief valve to react.
BERMAD's offline hydraulic surge anticipating control valve remains closed during regular operation of the system. However, when it senses a drop in line pressure it immediately opens to dissipate the returning pressure wave and eliminate the surge. It is doing so by relieving excessive in line pressure.
This highly reliable valve is in-line serviceable for easy maintenance. And because it is line pressure driven and does not require a motor, it is suitable for use in difficult to maintain or remote areas and older systems.
Bladder Surge Tank
Pressure surges in systems with long runs of pipe can quickly cause pipe ruptures and other damage. Installing a Bladder Surge Tank provides a shock absorbing effect that protects the system and its components from both positive and negative system surges.
BERMAD's Bladder Surge Tank is a steel tank containing a flexible bladder which constitutes a physical barrier between the water and the air. Compressed air at a pressure compatible with system requirements is confined between the tank housing and the bladder. The trapped air creates active and effective air volume which expend, allowing free flow to the mainline and by that preventing vacuum conditions on negative surge. On the other hand, it compresses and absorbs excessive energy on positive surge. The internal bladder precludes the dissolution of the air into the water, so no need using a compressor which recovers continually the discharge pressure. Thereby almost no maintenance and no electricity is required under normal operation.
Pump Control Valve
Active check pump control valves are double chambered, hydraulically operated valves that open fully or shut off in response to electric signals. The pump isolates from the system during pump startup and shutdown, thereby preventing pipeline surges.
Circulating pump control valves are hydraulically operated, with "active check valve" logic, that branches off the main line and synchronizes with the pump's electric control. The Valve operates during pump startup and shutdown, preventing startup flow debris penetration and pipeline surges.
Our surge analysis services help our customers achieve enhanced system efficiency and superior protection against water hammer, and can reduce costs and prolonging system lifespan.
For more information on surge protection for your water or wastewater system, or to inquire about our surge analysis services, contact us here to locate a BERMAD representative in your region.