During a fire event, the need for efficiency in a fire protection system is absolute. Time is of the essence; even a slight delay in fire water delivery could spell the difference between a contained event and one that spirals out of control.
However, the need for efficiency is not restricted to emergency situations. System components designed for versatility and ease of use can save significant time during routine maintenance and servicing as well as installation. Over time, this can lead to substantially reduced cost of operations.
The BERMAD 400Y Torrent Valve is designed from the ground up for optimal efficiency, both in an emergency situation and during normal, day-to-day operations and routine services. In a previous post, we examined this valve's unique reinforced elastomeric diaphragm and explained how its construction results in exceptional durability—and of course a highly durable valve is also highly economical from a cost control point of view. The 400Y's valve diaphragm design is also exceptionally efficient in operation, offering first class opening reliability, virtually frictionless actuation, and an unobstructed flow-path.
Now, let's take a look at 4 additional features that make the 400Y uniquely efficient in its class.
1. A deluge valve body engineered for maximum flow capacity
High flow capacity is essential for any water based fire protection system. Any obstruction at any point in the flow can reduce the effectiveness of the system's performance. Valve construction, therefore, is a critical thing to consider when designing a fire protection system.
Valves by their very nature are designed to limit the flow of water. Nearly any valve will do a good job of shutting off the flow. However, when water flows through a valve, it must change direction to bypass the inner structure of the valve. Valve designs vary; the angle of flow differs depending on model. With every twist and turn the water must take to get through the valve itself and/or bypass obstacles within the valve, pressure is lost. Therefore the maximum flow rate can vary considerably from one make and model of a fire control valve to the next, depending on how well the valve is designed to facilitate flow.

Because it was specifically designed from the ground up for use in fire protection applications, the BERMAD 400Y Torrent Valve is engineered to have exceptional fire water deliverance capability. This valve's Y-shaped design positions the port at just a 20˚ angle to the flow direction. The water is therefore able to take the shortest, straightest route through the valve to the outlet, with minimal head loss. The combination of this Y-shaped valve design and a large port gives the 400Y one of the highest flow capacities in its class. Some fire protection valve models on the market also contain various types of internal guides bearings and / or support ribs. Not only can these become a direct cause of flow resistance, they can also make it easier for rust, dirt, and various debris in the water to collect and impede the flow of water.

The internal design of the 400Y Torrent valve is free of any obstructions such as guides, shafts, in-line ribs, or bearings that might get stuck or obstruct the supply of water. Its virtually frictionless actuation ensures smooth response and an unobstructed flow path for exceptional fire water delivery.
2. Rotary position indicator for instant valve status confirmation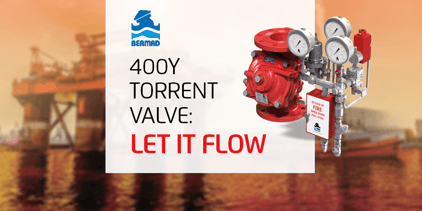 The BERMAD 400Y Torrent valve can be factory fitted with a linear/rotating indicator that shows the exact status of the valve at a glance. Unique in an elastomeric valve, the indicator offers more reliable indication than a downstream pressure sensor in that it shows not just whether the downstream pressure exists, but indicates the real valve position, whether it's open or closed, and by how much. The indicator is our eyes into the valve itself.

Readable from a distance of 50 meters and connected to a micro switch, the position indicator beacon allows quick and reliable diagnosis in a fire event situation. This is significant, because in a system containing 20 or 30 valves it allows an operator to instantly ascertain the correct functioning of the valves—a precious time-saving advantage. The indicator feature thus makes the 400Y especially suited for use in an industrial environment.
3. Dual drain valves for speedy inspection
To ensure proper functioning in the event of a fire, deluge valves must be tested and drained regularly. The 400Y Torrent valve includes a downstream as well as an upstream drain valve to facilitate and expedite the inspection process. This also saves the installation of a test valve hub/port on the downstream piping.
Efficiency also includes the maximum utilization of the available space. The 400Y's dual drain valves are designed to swivel 360˚ and can be easily positioned as needed for any given installation situation. They are easier to install and quicker to fit than standard drain valves, and allow the 400Y Torrent valve to fit more easily than other models where space is restricted.
4. Removable cover for instant in-line access.
Every fire protection valve requires periodic internal inspection. This can be a lengthy process in valves that are not designed for quick access. The BERMAD 400Y is specifically designed with an easily removable cover that saves time and effort during inspection.
On most 400Y models the valve cover is designed to be completely separate from piping and trim. To inspect the valve all one needs to do is to open the access bolts and lift up the cover. There is no need to disconnect the valve from the line, remove or dismantle any other part of the valve to gain access. Imagine the savings in labor costs over time, especially in larger systems containing dozens of individual deluge valves.
The BERMAD 400Y Torrent valve: uniquely efficient for fire protection
The BERMAD 400Y is designed for high efficiency flow control in deluge, pressure control deluge, remote on-off, monitor remote control, pre-action systems, pressure reducing and pressure relief onshore and offshore applications. The valve can be activated electrically, hydraulically, pneumatically or manually.
The 400Y is also available with a seat insert option. This is recommended for high pressure differential applications where cavitation damage is likely, and/or where maximum unit longevity is desired.
Whether your top concern is efficient performance in a fire scenario or cost-efficiency in maintenance, the BERMAD 400Y Torrent valve is specifically designed from the ground up to meet your needs.