For the first time BERMAD Fire Protection hosted a stand at this year's ADIPEC. Our stand was located in the UK pavilion alongside many other participating UK companies. It was a fantastic opportunity to meet with many Regional End User's, EPC's, Integrators and suppliers (far too many to mention here).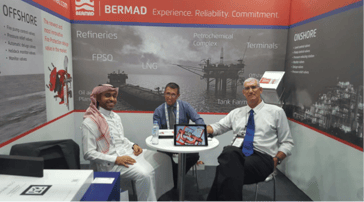 With over 2,000 exhibiting companies, in 25 country pavilions, 700 speakers, 8,500 delegates, 100,000 trade professionals from more than 125 countries, participating in the 19th Abu Dhabi International Petroleum Exhibition and Conference, ADIPEC is considered the largest and most comprehensive oil and gas industry event of the year.
The event was held under the patronage of President of the UAE His Highness Sheikh Khalifa bin Zayed Al Nahyan. This year's exhibition theme was 'Strategies for the New Energy Landscape', and spanned 130,000 square metres of floor space, including a dedicated quay-side exhibition area with live tours of offshore vessels.

This year the event was hosted by the Abu Dhabi National Oil Company (ADNOC). ADIPEC's official opening ceremony included keynote presentations by Suhail Mohamed Al Mazrouei, UAE Minister of Energy; Dr. Sultan Ahmed Al Jaber, UAE Minister of State and ADNOC Group CEO; Mohammed Barkindo, OPEC Secretary-General; and Rex W Tillerson, Chairman and CEO of Exxon Mobil Corporation.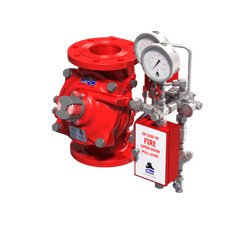 Many of our partners based in the UAE were participating in the event, including our recently appointed UAE agent.
One of the highlights for our guests was BERMAD's new Torrent© Deluge Valve. The valve itself is a wonderful piece of engineering. Under fire conditions, the BERMAD 400Y-3UH Deluge Valve opens in response to the Solenoid Valve being activated by the fire and gas control system. The 400Y-3UH Deluge Valve latches open, allowing water to flow into the system piping.
If You Missed us at ADIPEC...
Our local representatives met with many partners, colleagues and friends at ADIPEC, but we know many of you were not able to attend. If you were unable to visit our booth in person, we encourage you to contact one of our friendly representatives to learn more about the Torrent© Deluge Valve or any of our other products that can meet your needs out in high risk environments.