In high-hazard settings such as oil extraction facilities, refineries, and buildings in industrial parks where chemicals and other flammable liquids are stored, deluge systems are the preferred type of fire sprinkler system. Often referred to as open sprinklers, deluge systems are designed with open nozzles and empty, non-pressurized lines and are designed to discharge through all the sprinkler heads in the system. Because they deliver a large quantity of water all at once, they offer the best protection in the event of a fire in these types of facilities.
Most industrial fire protection valves are highly robust by design. However, they can still crack under the pressure of water freezing inside them, making their winterization critical to protecting the ability of the system to function properly in the event of a fire.

<<Download the BERMAD Fire Protection brochure to learn how
BERMAD FP solutions meet the varied needs of multiple markets>>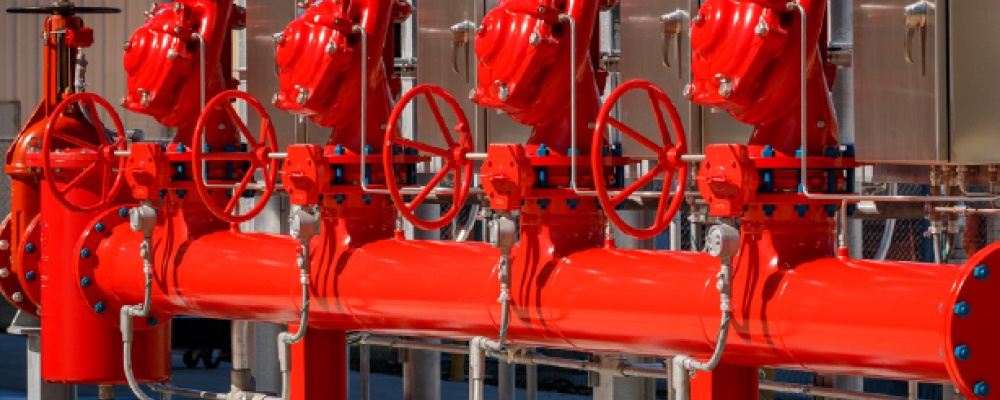 Freeze Protection is Easy to Overlook
In northern climates where freezing weather is a fact of life, freeze protection is built into fire protection systems by design with their valves sheltered in buildings or heated cabinets. However, in areas such as the southern United States where freezing occurs only occasionally, it is not uncommon for freeze protection to be overlooked in the initial design of the sprinkler system.
When designing for a four-inch heavy metal valve, it's all too easy to overlook a ½ inch control loop and its vulnerability to freezing. Control trims are the part of the valve assembly most susceptible to freezing because the priming water remains stagnant during normal operation. While the valve bodies may withstand a short duration freeze, the control trim components are likely to fail.
With any hydraulic valve, especially those located outdoors or in an unheated space, it is critically important have protection in place to keep water from freezing in the valve when ambient temperatures drop below 40 degrees Fahrenheit. The key is finding the most cost-effective solution for the climate in which your facility is located.

Solutions for Deluge Valve Winterization
One of the most common solutions for protecting deluge valves from freezing is the use of electric heat tracing. With heat tracing, a cable with an enclosed heating element is installed on the valve to keep it from freezing. While this is a very effective way to protect the piping for a deluge system, it can be difficult to apply to the control trim loops on the valves, which are small and intricate in their design.
One solution to this is to use a heated enclosure made of steel or glass reinforced plastic (GRP) to protect the entire valve and trim assembly. This is a very effective solution for any temperature regime. But, it's also the most expensive. A large refinery, for example, might have 200 or more deluge valves to protect, which can make the use of heated enclosures cost-prohibitive.
Depending on the location of the facility in question, there may not be a better option. However, in milder climates, there is now another, more cost-effective solution for protecting deluge valves from freezing.

Flexible Insulated Jackets
BERMAD now offers flexible insulation jackets that provide a far more cost-effective solution protecting deluge valves from freezing at only a fourth of the cost of heated enclosures. Bermad's insulation jackets are made with an outer layer of nylon with layers of insulation sewn inside to provide superior protection from falling temperatures.
Flexible insulation jackets can be manufactured for new and existing sprinkler system installations and are custom measured to fit each individual valve and its configuration. They offer quick access for emergency actuation and penetrations for priming line, electrical conduits, and drains included in construction. Insulation jackets also take up less space than rigid enclosures and are easier and far less expensive to install.
Compared to traditional winterization methods which can take weeks to months to design and install, insulated jackets can be made in a matter of days. This is particularly useful for businesses needing to get protection installed quickly before cold weather hits.
Another benefit is that they require little to no maintenance and are simple to remove and replace when service on the deluge valve is required.
BERMAD Can Help Protect Your System in Any Location

BERMAD's flexible insulated jackets are ideally suited for milder climates where temperatures don't fall below zero or those that occasionally experience short periods of low temperatures. If your facility is located in an environment where below-zero temperatures are common, we can recommend other cost-effective ways to ensure your system's deluge valves are adequately protected. At BERMAD, we offer custom freeze protection solutions for any setting and situation. Contact us today to learn more.