Fire protection systems play a critical role in preserving safety at oil and gas facilities. Deluge systems are classified as active fire protection measures and are commonly used in a wide range of offshore O&G installations, including floating production storage and offloading (FPSO) vessels, floating production systems (FPSs), and fixed platforms.
Because a fire in the offshore environment often presents a significantly higher risk to personnel and equipment than it does in an onshore facility, the performance and reliability of deluge systems is of the utmost importance.
Deluge System Design
Deluge systems typically consist of three main components: a control valve, a nozzle, and ancillary distribution pipework. The deluge control valve is the most important part of the system and is largely responsible for ensuring that an adequate volume of water is applied to the fire-impacted area in a short period of time. Foaming agents, like aqueous film forming foam (or AFFF), may be added to the water supply in order to more effectively extinguish hydrocarbon pool fires.
Deluge systems are designed either for general area coverage or for direct application of water to a specified area. In systems designed for general area coverage the primary objective is to extinguish the fire and stop it from spreading beyond the region where it originated. Direct application systems, on the other hand, are used to cool hot surfaces or mission-critical pieces of equipment (pressurized tanks, process skids, compressors, pipework, etc.) in order to prevent deformation and/or structural failure.
BERMAD Deluge Valves Used on Martin Linge Offshore Production Platform
BERMAD supplied fire protection deluge valves to Total E&P's Martin Linge fixed production platform, which will be located in the North Sea, approximately 42-kilometers west of Oseberg, Norway.
At a water depth of 115-meters, Martin Linge is designed to be an innovative facility ready to exploit a high-pressure oil reservoir at 2000-meters depth and a sizeable gas reservoir at 4000-meters depth. The field is estimated with recoverable reserves at around 190 million barrels of oil equivalent (oil and gas). First oil from the platform is expected in 2018.
An Overview of Deluge Valves Specs Used
The Martin Linge project uses titanium and super-duplex, high-capacity pressure control deluge valves, as well as pneumatic-operated foam concentrate deluge valves with a 20 bar working pressure dual redundant trim operated on two pressure settings.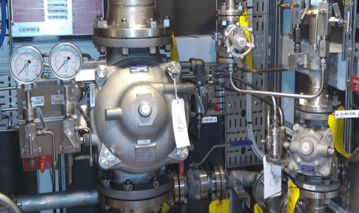 The valves feature a fail-safe design, which ensures that opening occurs under any circumstances. They are equipped with a peripherally-supported elastomeric radial seal and have no mechanical moving parts for maximum reliability.
Also included in BERMAD's deluge valve design is a solid, one-piece radial seal disc that facilitates long life and durability. The valves supplied to Martin Linge were specifically manufactured for operation in the harsh seawater environments of offshore platforms and can be serviced in-line, which simplifies maintenance and minimizes production downtime.
The valves are made from a combination of specialty materials, including nickel aluminum bronze ASTM B148 C95800, Hastelloy C-276, Monel, stainless steel 316 ASTM A351 Grade CF8M, and Grade 2 titanium. In addition to being SIL 2 Certified, they were designed to comply with Det Norske Veritas (DNV) standards, as well as Total E&P's unique requirements.
The installation of these advanced fire protection deluge valves are helping put the Martin Linge facility on the forefront of environmentally safe offshore oil and gas production in the North Sea.