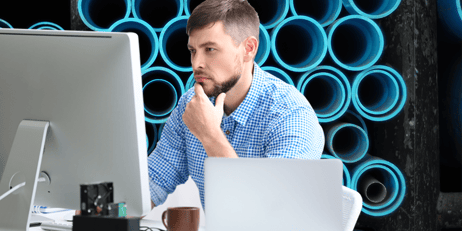 Water is becoming an increasingly precious resource. Governments and organizations everywhere are placing increasing importance on water management, both in an effort to reduce costs and to ensure adequate supply into the future.
Effective monitoring and metering play a critical role in water management. Greater accuracy in the measurement of water flow and consumption significantly improves analytic capacity and lays the groundwork for practical water conservation action, from locating and addressing leaks to consumer behavior modification.
The Evolution of Water Metering
Water metering is a relatively new field. The modern water meter was invented in the mid-19th century and has only seen widespread use for a little over 100 years. Water metering technology has improved significantly since then, and continues to do so. Let's take a look at the evolution of water metering, and the benefits each improvement in technology has realized.
Manual Water Meter Reading
If you are of a certain age you probably remember the meter man walking through your neighborhood once every two or three months. He would walk up to each house and read the water meter, jotting down the numbers on a notepad. This information would then have to be compiled and analyzed back at the municipal offices.
While the adoption of computer technology vastly improved the efficiency of this process, the drawbacks to this method are obvious: it is costly and time-consuming, with a very real margin of human error.
The Postcard Method of Water Meter Reading
In areas where it was not practical to send a meter reader individually to each house (for instance, in some of the sparsely populated water districts in the western U.S., which may encompass thousands of square miles), an honor system was devised. Once or twice a year, a postcard would be supplied to each water customer, who would then be expected to read their own meter and send the results in.
Walk-By Water Metering
The first big technological improvement to manual reading came with the invention of a hand-held device which allowed the meter reader to simply touch the device to the meter to download the information, rather than have to open and read each meter individually. This not only saved significant time and labor costs, it also improved the accuracy of readings.
AMR and Drive-By Metering
With the invention of AMR (Advanced Meter Reading) technology, meter readers no longer had to walk down the street. Information from each meter is wirelessly transmitted every few seconds, and is accessible for a short distance, enabling the meter reader to simply drive by and collect the data with a transceiver in the vehicle. The information is then downloaded into CIS software and from there to billing software, which generates the invoices.
At this point in time, AMR is still the most-sold water metering technology on the market. However, it does have some significant drawbacks. Because the data transmission from an AMR unit is short-range, it still requires vehicle deployment. This adds to the cost and environmental impact of metering and limits the frequency with which it is practical to take readings. Also, it is very common to miss a few readings per route. At the end of the day, it is then necessary for the meter reader to go back and manually collect information from those meters that did not report.
Advanced Metering Infrastructure (AMI)
The newest water metering technology eliminates the physical visit to the metered neighborhoods. With the long range data transmission capability of AMI technology, data can now be collected directly and automatically over a distance of ½ to 5 miles away. This has revolutionary implications:
AMI enables far more frequent meter readings, such as hourly or even at 15 minute intervals. This gives a much more granular picture of water consumption and can help a water utility rapidly locate and address leaks that in the past would have gone unnoticed for weeks or months.

AMI allows for improved customer communication to address water usage issues. Its smart software can be programmed to automatically flag anomalous usage, and contact the customer through phone, email, or text.
BERMAD: Stepping Into Global AMI Leadership
At BERMAD, we believe AMI is the future of water metering. We are excited by the economic, social and environmental implications of this technology, and have implemented several steps to stay at the forefront of developments in AMI:
Built-in GSM communication
One of the factors prohibiting implementation of AMI for many water districts has been the upfront cost of infrastructure acquisition. BERMAD has taken a giant step towards removing that barrier by integrating GSM communication into every water meter we supply. If before you had to build a network to read all the individual meters, this plug-and-play capability enables you to skip that step and build your AMI infrastructure far more cost effectively.
Euromag magnetic flow meter
BERMAD is now offering the Euromag magnetic flow meter, which addresses a multitude of specific water metering needs, including the elimination of the need for straight line pipe before and after the meter.
The Euromag magnetic flow meters offer impressive value with exciting features such as: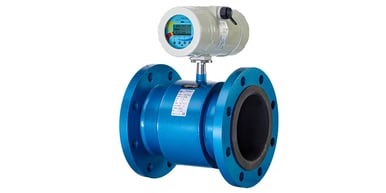 Size variation from 1.5 up to 80 inches

Numerous sensors and converters for different applications

U0-DO - eliminating space constraints on water pipes and reduce installation time/costs with no need to sacrifice accuracy

Integrated pressure port

5 totalizers- 2 positive, 2 negative, 1 net resettable

Sensor/converter can be mounted compact or to the side

Powered by AC power, solar panel, or high-efficiency battery according to customer's needs

Data Logging - Unit logs data at 15 minute intervals

AMI Reporting capabilities – the Mag Meter sends reports and alerts to user via SMS or email, or cloud based software including rate of consumption, flow, alerts for too much or insufficient water, empty pipe, etc.

Connectivity to scale systems or internet

Intuitive and user friendly PC interface with easy to download and diagnose information

Multilingual - supports English, Spanish, Portuguese, and French

10-year life span on display unit battery for exceptional reliability, reduced downtime and minimal maintenance

Insertion installation using valve port allows conversion of existing BERMAD valves into valve with flow meter
The Euromag magnetic meter is highly versatile and suitable for virtually any water metering application. It is capable of handling any liquid that doesn't have hard particles in it, including irrigation, wastewater, stormwater, potable water, etc. The units are also ideal for remote applications and areas with no access to power when set up for use with batteries and/or solar panels.
We will soon be offering a new line of ultrasonic smart meters with several applications for various markets, so stay tuned for future updates.
If you are ready to start being proactive about your water utility assets; reduce your revenue loss due to unaccounted water; improve your water conservation efforts; reduce your fleet expenses, labor costs and environmental impact; and upgrade your customer service capabilities, it's time to think about upgrading to AMI. To learn more, contact us and we will put you in touch with a BERMAD representative in your region.