When firefighters get called in, the last thing they want to deal with is a clogged nozzle. The consequences may be tragic if a fire does occur and the fire sprinklers don't turn on. These malfunctions are key indicators of a vulnerable fire protection system. And unfortunately, you may not become aware of the problem until it's too late.
One solution is to perform routine inspections. But even then, the problem could occur after your inspection. You need a system-integrated solution to put your mind at ease. After all, fire protection systems need to function at any time needed, with no failure.
If you don't have a fire line basket strainer, your system is constantly at risk of clogging, malfunction, and tearing. A basket strainer can solve all of these problems. But it takes a designated fire line basket strainer to solve them efficiently and cost-effectively.
Why are basket strainers essential in your fire protection system?
What causes clogged nozzles and torn valve diaphragms? Most often, the culprit lies in what is in the water. A fire protection system that does not take water-borne debris into consideration is likely to cause serious liability issues sometime in the future—either in the form of more frequent maintenance, or in the worst case, a malfunction of the sensitive components in the system.
NFPA standards 13, 15 and 16 require that a listed strainer be provided in the main pipeline of all systems that use sprinkler nozzles and where the water is likely to contain obstructive material or systems.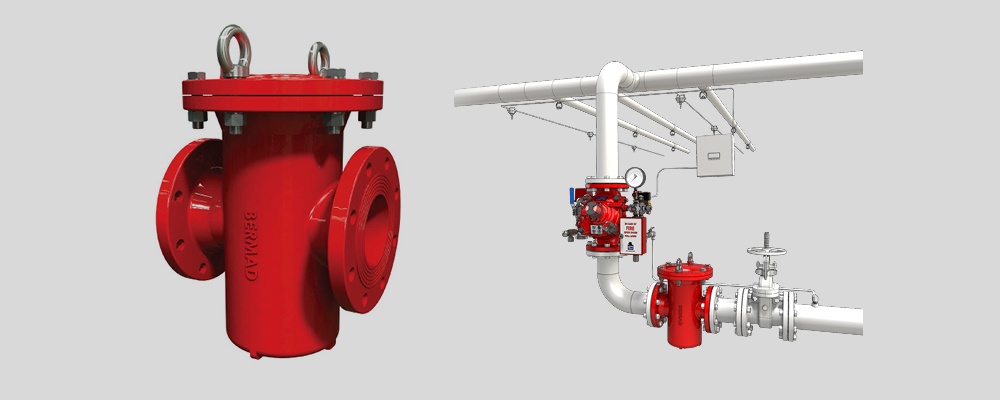 Basket Fire Line Strainer Typical Installation

Fire protection systems usually pump water from sources such as water tanks, lakes, rivers, or the sea, which are often littered with various kinds of debris. Rust, stones, and organic matter transferred along the pipes can get stuck and cause clogging or bridging. Bridging is what happens when matter solidifies in a bridge formation across the pipe. The same material can cause the pipes to corrode over time. And that's not the worst of it.
Metal shards, pebbles and other sharp-edged debris are sometimes sucked into the system and can rupture the rubber diaphragm and cause pilot valves to malfunction. This burst, of course, is a major disruption and can take days to fix. During the resulting downtime, your system will be rendered useless and endanger the entire facilities. Needless to say, it is expensive to replace these parts, and without inserting a fire line basket strainer, this rupture is likely to happen again. That is why a basket strainer is an essential component of a safe and reliable fire protection system.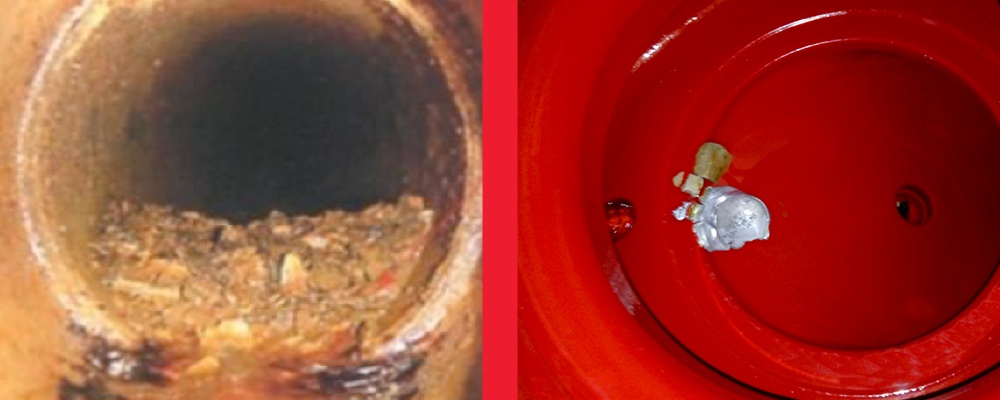 Debris caught in a pipe

But even if you already have a basket strainer, it needs to be maintained, or else clogging can continue to occur.
The ideal fire basket strainer
To protect your entire system and save you money down the road, a quality basket strainer is a necessity. But what does that look like? We at BERMAD have identified some qualities that distinguish premium fire line basket strainers:
UL listed. The Standard UL approval dictates that with the basket strainer, the size of the mesh must be 3.2 mm (1/8 inch).

Cross-sectional area 10:1 ratio. A basket strainer that can function well even when it is partially clogged and has low water pressure drops at the same time. It allows the system to overcome unclean water scenarios without compromising on the fire distinguishing performance.


Ease of maintenance. This one speaks for itself – the less downtime, the better! Maintenance should be quick and easy to ensure that your system is up and running as long as possible.


Ease of installation. No basket strainer should be difficult to introduce to your system. The best system will be straightforward, giving you more time to focus on other important aspects of your fire protection system. A simple installation procedure also minimizes the chance of incorrect (and thus ineffective) installation.


Size availability. Most basket strainers come in sizes of 3-8 inches, meaning that if you require a larger strainer, you may be out of luck. BERMAD is the exception. Our UL-approved basket strainers come in 3, 4, 6, 8, 10 and 12 inch sizes.


Durability. What is it made of? Ideally, your strainer should also be able to withstand harsh and corrosive fluids in order to be truly cost-effective. Two materials to look for are epoxy coatings and stainless steel 316 screen, both of which can endure for the long-term.
Protect your fire system today
Basket strainers for fire protection systems are so important that BERMAD resolved to develop an effective and easy-to-maintain one to meet your needs. Our FP-60F fire line basket strainer is the ultimate tool to protect your pipelines and nozzles of automatic sprinklers, deluge valves, or foam sprays. It can also be applied to the upstream of pressure control valves and sensitive system devices.
The FP-60F basket strainer is UL-listed, meaning that it's compliant with international standards for a fire system. It can easily trap objects with a 3.2 mm diameter or larger. BERMAD's basket strainers can also be installed in compliance with NFPA regulations.
This strainer has a low-pressure drop, providing for greater safety and reliability. Despite low pressure, this model ensures firewater availability even at a pressure drop of 3 psi. This makes it easier and safer to clean and service the strainer. Furthermore, this basket strainer has a high-flow capacity – e.g. for an 8" strainer, it can handle 1334 gallons per minute with a 1 psi differential pressure. It also has a large screen basket, making it extremely safe and reliable. This appliance can also be applied to a foam generator, so long as it is installed upstream of the water control valve.
The FP-60F basket strainer is not only flexible to install, but also has a high build epoxy coating with a stainless-steel screen, making it compatible with corrosive fluids and harsh environments. The gasket is asbestos free. For a quick and easy maintenance experience, all you need to do is remove the cover to clean it – you don't have to remove the entire strainer from the pipe. In fact, you only have to clean our basket strainers once a year during routine inspections.
BERMAD's FP-60F must be installed where there is adequate clearance to completely remove the strainer and should be fitted prior to installation.
Protect your fire line system today
Don't leave your facility vulnerable in moments of disaster. You can create a reliable and safe network to keep your fire protection system functioning 24/7. With BERMAD's basket strainers you won't have to worry. Our innovative basket strainers and valves are long-lasting, easy to maintain and function 24/7, even in low-pressure scenarios.
Where can you get our high-quality strainers? BERMAD has 13 offices around the globe, making it easy to get in touch with a representative. Our representatives can accurately understand your challenges, your system, and can actively help you find a solution.