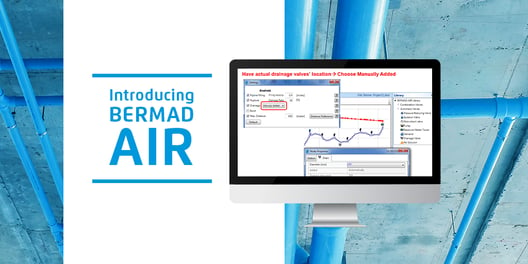 Proper air control is a vital factor in water system design. Appropriate sizing and placement of air valves is critical to avoid water hammer, head loss, and to achieve optimal efficiency and system longevity. Choosing the right valves for the job is a complex and time-consuming task that requires the designer to take a great number of factors into account, not the least of which includes keeping system costs within budget.
We are proud to introduce the new version of BERMAD Air software, a state of the art, free water system design tool that can help you eliminate error, reduce costs and significantly shorten the time it takes to select the best valves for optimizing air control in water pipelines and networks. BERMAD Air modelling is especially useful for designing long transmission lines, utilizing either pump-reservoir systems or gravity systems.
BERMAD Air will:
Protect against vacuum conditions and pipeline collapse due to drainage or burst.

Ensure safe and controlled pipeline filling within a reasonable time.

Enhance system efficiency during pressurized operation by releasing air pockets.

Improve Surge Protection solutions.

Reduce air valve procurement costs.
BERMAD Air is a standalone software that can be downloaded free of charge onto your computer. It does not require internet access to use. Simply input your comprehensive water system data—including system layout, topography, regulators, drainage valves, demands and other factors—into the modern, user-friendly interface in your choice of Metric or English units.
Based on your specifications, this powerful software automatically calibrates component features (including quantity, material, diameter, connection type, coating, outlet, and additional features) for your system, along with specific catalog numbers for each unit, saving hours of time and effort on the part of the designer.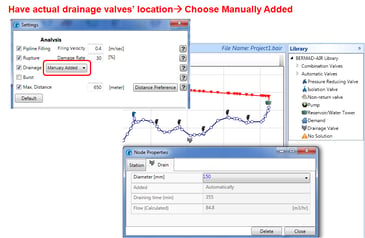 BERMAD Air is capable of performing virtually any type of water system analysis, including:
Pipeline filling

Burst\Rupture

Drainage

Max distance

Column separation

Critical velocity
Convenient Features include:
Real Inflow and Outflow Data

- It is important to note that air valve selection is based on actual air flowmeasurements for each model and size to ensure optimal performance of your system. The valve data used in BERMAD Air is a result of thorough testing of every BERMAD air valve by our advanced lab facilities according to standard EN-1074/4 and represents real, not theoretical, measurements for valve performance. This degree of accuracy eliminates the need for "hedging" towards an oversized valve, and can help reduce air valve procurement costs by avoiding oversized and/or unnecessary valves.
Easy Data Upload

– Users can upload data manually, or quickly and easily upload from AutoCad or MS Excel.
Comprehensive Applications – BERMAD Air offers integration of pressure reducing valves, drainage valves and consideration of demand nodes.
Integrated Graphic Display and Reports Interface

– BERMAD Air's drag-and-drop interface is one of the most user-friendly in the industry. Once generated, design information can be easily downloaded into a PDF or Excel format as your choice of a summary or full report, for ease of reference and sharing purposes.
Eliminate Error Due to Inaccurate Topographical Calculation
High points along the pipeline are critical locations for both combination and automatic air valves, and play a major role in the program analysis. About 80% of the air valves in a typical system are located at hig
h points. Therefore, it is essential to determine the high points properly to avoid system inefficiency.
BERMAD Air's algorithm supports proper high point calculation by:
Verifying user input data

Optimizing pipeline layout

Ignoring high points with negligible topographic change (thus reducing costs by avoiding unnecessary valve placement)
BERMAD Air is available to any water system designer free of charge. Click here to request access.