All deluge valves are self-operated water driven valves. The primary function of the Solenoid Valve is to release the control valve. Every electrically operated deluge valve shall be certified by Underwriter Laboratories (UL) and/or FM Global (FM) and must be listed with a specific solenoid according to the standard. The UL and FM standards are very strict and must be followed. Many users opt for less expensive valves which don't carry these certifications. The users don't understand the importance of these standards, the significance of certifications, and why stringent testing is carried out to ensure valves don't fail. The result of valve failure can be anything from damage to premises and equipment to a major catastrophe.
<< Find out more about Bermad's Solenoid Valves>>
The main performance requirements in order to receive certification are listed below:
Underwriter Laboratories: 429A
These requirements cover electrically operated valves intended for use in fire service systems such as sprinkler systems installed in accordance with the Standard for the Installation of Sprinkler Systems, NPFA13.
Valves must comply with the following performance requirements:
Overpressure Operation Test - Sample valves are to be installed in a supply line having pressure applied at twice the maximum operating pressure differential of the valves at its rated voltage.
Undervoltage Operation Test - An electrical operated valve shall operate as intended when subjected to the undervoltage test. Valves are to be installed in a supply line having pressure applied at the maximum rated pressure and energized at 65% of rated voltage.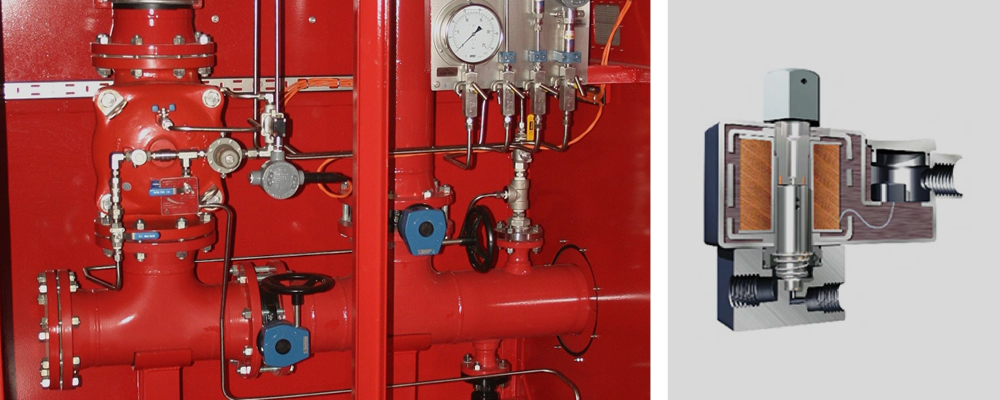 In normal continuous operation, the solenoid is normally de-energized. As long as there is no power applied, the deluge valve will remain closed and sealed. During a fire or test conditions, the solenoid valve is energized and activated to the release position, either by the automatic detection system or by an operator pushing the remote control button.
FM Global: 1011/1012/1013
Valves must comply with the following performance requirements:
Voltage Variation - The valve shall open and close satisfactorily at 85 and 110 percent of nominal 24 VDC rated voltage rate. The valve shall be operated in the maximum rated pressure at 85% of rated voltage.
Cycle Rate - Solenoid valves should be capable of 20,000 cycles at the maximum rated pressure without leakage, excessive wear, damage or failure of any valve component.

Vibration Test - 24 hour vibration test.
Valve Body Shell Hydrostatic - Valve bodies shall be subjected to a hydrostatic text pressure four times the rated working pressure. There shall be no visible rupture, cracking, or permanent distortion to the valve body as a result of this test.
Seat Leakage - A solenoid valve of each size submitted for approval shall be subjected to a hydrostatic pressure of two times the system rated working pressure at the inlet valve for five minutes. The normally closed (NC) valve shall be de-energized closed for this test. There shall be no seat leakage or damage as a result of this test.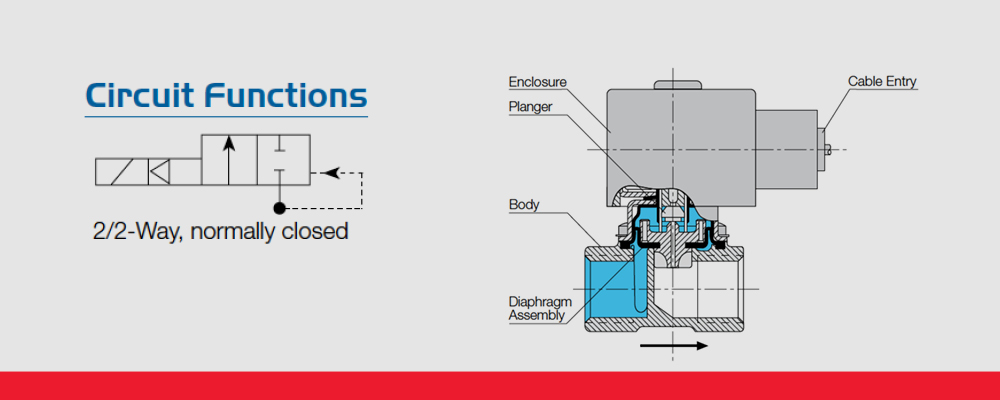 Bermad offers all agency certifications (UL, FM or a combination of UL & FM) according to the client's specification or as determined by the insurers. It's important to note that certifications for hazardous locations may be other than UL or FM. Irrespective of the certifying body, hazardous location certification is separate from the valve listing. The area classification of a specific deluge valve installation will differ according to the part of the facility being protected.
For more information on Solenoid Valves and certifications, contact a Bermad representative.